Linear Torque Tuningtm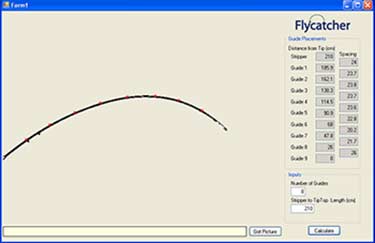 ... Maximum power, maximum distance. Linear Torque Tuning compensates for variations in rod flex variations. Rods taper from butt to tip. The rate of taper impacts the behavior of the rod from slow to fast. Each rod has a natural curvature to it that varies from one blank to the next. Maximum energy transfer to the fly line and fly occurs when placement of rod guides reinforces the natural curvature. Linear Torque Tuning allows us to place the rod guides at precise locations to reinforce the natural curvature.
...learn more
Zero Balance Linear Torque Tuning uses computer analysis to tune individual rod blanks. The rod blank is put under stress and is photographed. A proprietary computer algorithm analyzes the rod curvature and determines accurate guide placement. The result is guide placement designed to optimize casting distance.